Travelling with a medical device to Canada
Updated: May 16, 2021 | Tags: Flight Safety, Border Security, Flying to Canada
Travellers with medical devices need to be aware of rules and regulations when travelling to Canada by aircraft. The first step in the planning process, is for such travellers to contact their doctor or physician. Make inquiries on whether it will be safe for you to travel and to pass through the security metal detectors in use at various checkpoints. Travellers should also gather their medical documents, such as proof of prescriptions or medical disability, as they may need them during their travels.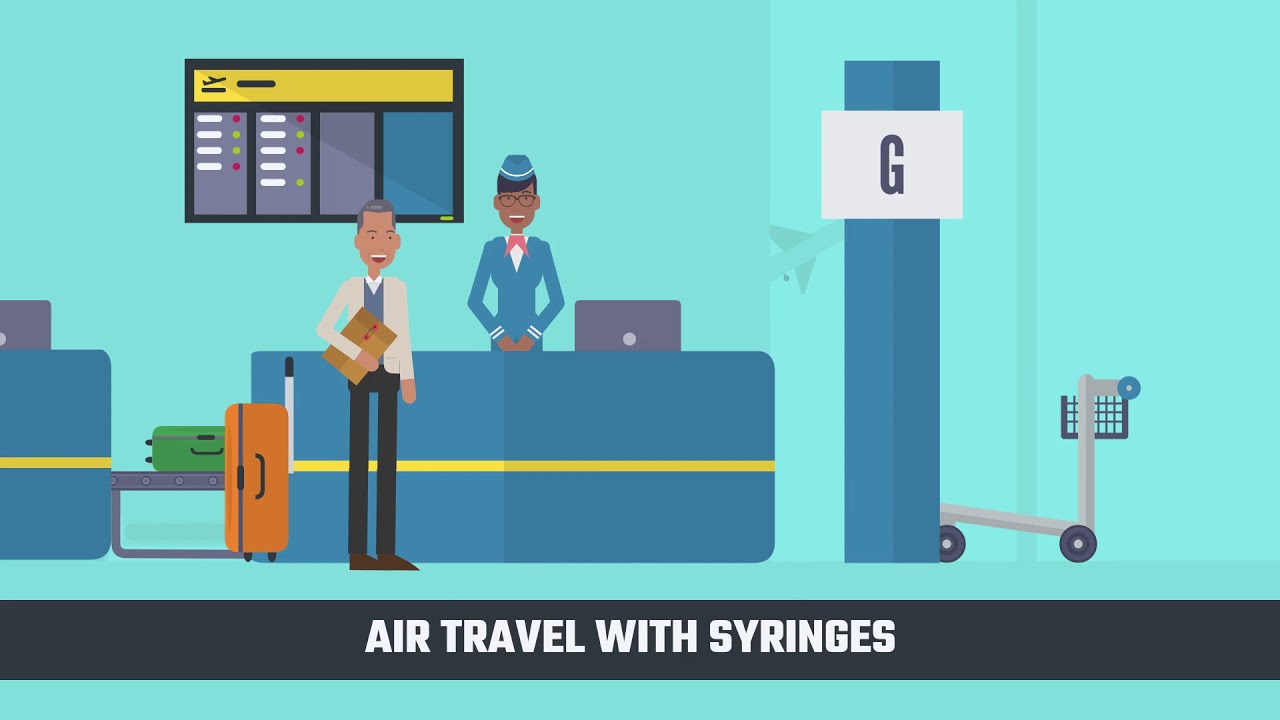 Travelling with a medical device to Canada
Plan Ahead
Airlines have strict policies when it comes to carry-on luggage. Travellers are usually only allowed to carry a maximum of two carry-on bags. However, this limit doesn't apply to mobility aids, medical equipment, and supplies. For those that may need to travel with battery-powered mobility aids or wheelchairs, it will be important to inform the airline of this in advance. The same also applies to people who may require assistance to go through the pre-boarding process.
On arrival at the airport, head over to the Special Needs-Family security line. It's recommended that all travellers with a disability or special needs use this line as the security officers at these stations are well-equipped to offer any extra assistance that may be necessary. Be sure to inform the officers that you have a mobility aid, artificial limb, or medical implant that can either get affected or trigger the magnetic fields present in the security metal detectors.
Pacemakers and Other Medical Devices
Travellers that have insulin pumps, pacemakers, and/or other medical devices should inform the screening officers of this upon their arrival at the screening stations. The medical information gathered earlier will be required to enable you to confirm that you indeed have an existing medical condition. Where further screening is deemed necessary, the screening officer will arrange for it to occur in a private room located within the airport.
Air Travel with Syringes
Certain medical conditions call for patients to travel with syringes and needles. If you have such a condition, ensure that you have carried a medical certificate to confirm this condition. Apart from a medical certificate, you can also provide a stamped explanation from your primary physician or healthcare facility. In certain countries, a traveller is likely to be questioned by airline or airport security staff if they are found traveling with syringes and needles without a good and/or reasonable explanation.
If needed for medical reasons, the syringes and needles can be placed in the carry-on luggage. For confirmation purposes, check the Canadian Air Transport Security Authority website to determine the documents required. Also, consider checking airline regulations as the policies may differ slightly from carrier to carrier and from country to country.
Pre-boarding Screening and Ostomy
Before you can start the pre-boarding process ensure that you have informed the security personnel at the screening station that you have an ostomy. You will need to provide them with a note from the doctor's office. While this documentation isn't mandatory, having it with you helps to streamline the screening process. As earlier noted, a private search area will be provided immediately if further screening is required.
You can pack all your ostomy supplies, i.e., flanges and pouches in the carry-on luggage which will then undergo screening at the set checkpoints. Flanges should be prepared in advance by making certain that you have cut them before your travel date. This is especially important if you think that you may need to use them during the flight.
Paste tubes are exempted from the liquid restrictions. Travellers must, however, present the tubes to the screening personnel separately by first removing them from the carry-on baggage.
Additional medical items and mobility aids that are allowed through the security screening area include:
Wheelchairs
Stylus and slate
Scooters
Braille notetakers
Crutches
All-diabetes related supplies, equipment, and medication
Canes
Medications
Walkers
Tools for prosthetic devices
Prosthetic devices
CO2 personal concentrators and oxygen
Casts
Personal supplemental oxygen
Support braces
Tools for wheelchair reassembly/disassembly
Support appliances
Cochlear implants
Service animals
Hearing aids
CPAP (continuous positive airway pressure) respirators and machines. The water in the CPAP machine is also excluded from the airline's liquid restrictions.
Apnea monitors
Augmentation devices
Orthopedic shoes
Adaptive/assistive equipment
Exterior medical devices
Any other disability-related equipment or device and related medical supplies
Medical Approval and Advance Notice
Any traveller that requires the use of a battery-powered medical device or equipment during their flight is required to contact the airline reservations desk at least forty-eight hours before traveling. Medical approval to board a flight is required for certain medical devices such as ventilators.
It's essential to note that medical approval isn't required for travellers that have a BPAP or CPAP machine required for treating sleep apnea. Nonetheless, you are advised to get in touch with your airline's reservation's office if you intend to bring the machine on board, even if you don't intend to use it.
Additional Information About Traveling with Battery-Powered Medical Equipment
Spare Batteries
Confirm with the airline on the accepted battery types and devices. For the spare batteries, make sure that they are packed in a manner that will protect them from physical damage or short circuits. Consider placing each battery in a separate plastic bag or a protective pouch and taping over all the exposed terminals. Otherwise, consider leaving the spare batteries in their original packaging.
Spillable Batteries
Checked Baggage - Spillable batteries intended for use with a battery-powered medical device aren't allowed in checked baggage. In case it's not possible to establish whether the battery is spillable or not, the airline will treat it as a spillable battery
Carry-on Luggage - You can pack spillable batteries in your carry-on luggage. Your packed batteries should remain below the seat at all times. Additional packaging requirements may be applied. Call the reservations desk to make inquiries on how to pack the spillable batteries.
Conclusion
Travellers with medical devices will need to ensure their belongings comply with safety and security regulations as well as airline rules. If travellers are in doubt whether their device complies or not, they should contact their airline's support line for more information. Lastly, when travelling with a medical device or any medication, take enough to last the duration of the trip, as acquiring medical supplies or medication may prove difficult or costly in Canada.
Get started on your eTA application
If you hold a passport from a country that is eligible for the Canada eTA such as the UK, Ireland, Germany, France, Italy, Spain, Denmark, Sweden, Norway, or many other eTA eligible countries, you will need to obtain an approved eTA before your tourism, business or medical visit to Canada. Get started on your application, otherwise, visit the eTA requirements to learn more about the Canada eTA